Wednesday, June 21, 2006
PC(USA) General Assembly ACCEPTS Committee Report -- Removes Divestment Language -- Live Blog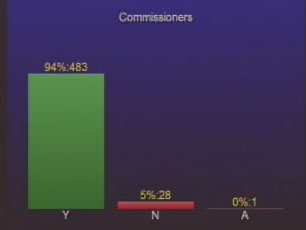 The committee recommendation is multifaceted. This post from Monday had a run-down with multiple links: Presbyterian Divestment -- Where do we stand? The basic gist is that the "divestment" language has been successfully removed. A hearty congratulations on everyone, especially our Presbyterian friends who worked so hard on this.
Here is the official result with the full language of the recommendation of the committee: On Rescinding and Modifying Certain Actions of the 216th General Assembly (2004) Regarding the Israeli-Palestinian Conflict
Here's some of the language on the divestment issue:
"We acknowledge that the actions of the 216th General Assembly caused hurt and misunderstanding among many members of the Jewish community and within our Presbyterian communion. We are grieved by the pain that this has caused, accept responsibility for the flaws in our process, and ask for a new season of mutual understanding and dialogue.
To these ends, we replace the instructions expressed in Item 12-01 (Minutes, 2004 Part I, pp. 64-66) item 7, which reads
"7. Refers to Mission Responsibility Through Investment Committee (MRTI) with instructions to initiate a process of phased selective divestment in multinational corporations operating in Israel, in accordance to General Assembly policy on social investing, and to make appropriate recommendations to the General Assembly Council for action."
with the following:
To urge that financial investments of the Presbyterian Church (U.S.A.), as they pertain to Israel, Gaza, East Jerusalem, and the West Bank, be invested in only peaceful pursuits, and affirm that the customary corporate engagement process of the Committee on Mission Responsibility Through Investment of our denomination is the proper vehicle for achieving this goal."
No serious trouble was seen in the floor debate. Below is a very rough live-blog based on the live video-feed. My apologies to anyone who's name I butcher, or who's picture I assign incorrectly. Corrections are welcome. [I will be editing and cleaning up this post for awhile without comment. done]
New York Commissioner McLeod recommends an ammendment. Concerned about conflict with the Barman Declaration and the issuing of an apology...wants to withdraw apology language...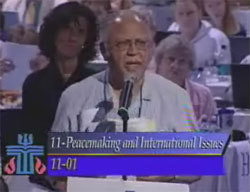 McLeod
Noel Anderson, committee member, speaks against the motion...with all respect to Mr. McLeod...please vote no on the ammendment and accept...we worked very hard, prayerfully, etc...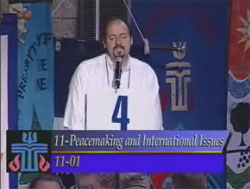 Noel Anderson
Sandy Irving [no pic] stands for the ammendment...first educated on the Palestinian issue by a book by Elias Chacour..."ending the occupation through divestment is pro-life..."
Adam Fisher of a theological seminary rises in opposition to the ammendment...reconciliation begins with "I'm sorry."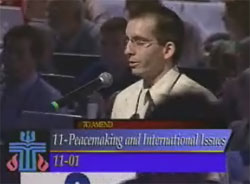 Adam Fisher
Barbara...something...in favor...blames the reporting of the last General Assembly's actions for the problems the PC(USA) has had over the past two years (probably referring to the fact that it's supposed to be "phased, selective divestment," not just "divestment" as it's usually referred to)...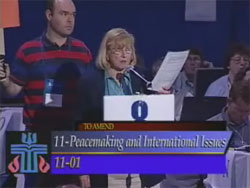 Barbara
Stacy Smith, seminarian...asks a question about the language...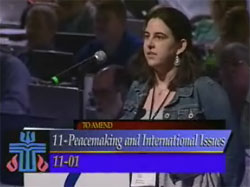 Stacy Smith
Jay Rock speaks in response to explain the committee's language...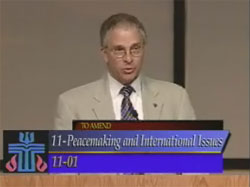 Jay Rock
Ken Robins speaks against the motion...served on committee...we already have a committee to address investment concerns...the original language disrupted that work...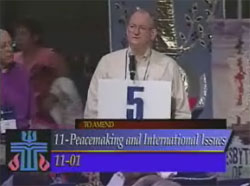 Ken Robins
Question is called...machine vote to end debate...debate is voted to end on the ammendment to strike and add language...ammendment is voted DOWN 76% - 24%...more motions...
Mark Davidson introduces motion to change language to support Palestinian Christian partners...feeling Palestinian pain and support justice for Palestinian people...don't abandon Pals in a rush to shore up our relationship with Jewish community...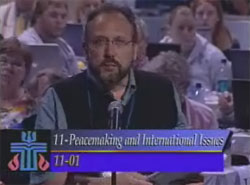 Mark Davidson
Bruce Ogden...speaks against motion...don't dismantle the committee's work with piecemeal ammendments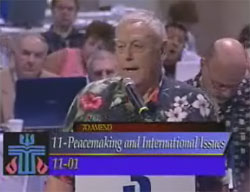 Bruce Ogden
Jeffrey Deal...went on Presbyterian peacemaking trip...blames Christian crisis on occupation...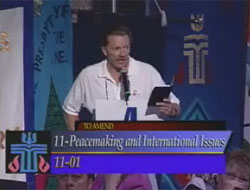 Jeffrey Deal
Doug Runyon (no pic)...against...believes committee is already balanced and notes language calls for wall to return to green line [true, and a still problematic part of the report, but it is a step in the right direction as it does not call for the wall to be removed altogether]...
Fahed Abu Akel...brings greetings from 15 million Arab Chrisitians...urges a yes vote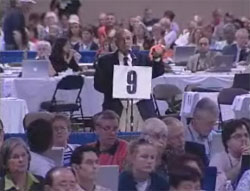 Abu Akel
Ray Quiles...speaks out for messianic Jews in Israel who will be supported with the committee's recommendations...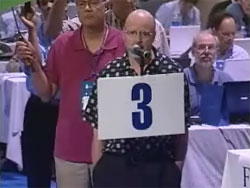 Ray Quiles
Frances Hayes...in favor of the ammendment...also took the "peacemaking" trip...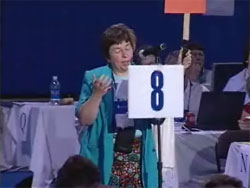 Frances Hayes
Bob Henley [no pic] calls the question for this and all FURTHER questions (please, please pass)...MOTION PASSES...now they vote for the ammendment THEN the whole document...ammendment vote FAILS 53-46% (GOOD)
Now the vote on whether to accept the committee's report...this is the big one...the question PASSES 94% in the Yes column
Motion to have all further business of the committee go by this vote and skip any more debate or voting...PASSES 98%
That's IT.
Big OVATION
Norman Finkelstein's book sleeps with the fishes.
Update: Power Line has another exclusive report from Joel Mowbray that starts:
In a stunning reversal of two years ago, the Presbyterian Church's 534 voting members this evening overwhelming disavowed their previous embrace of "phased, selective divestment" from Israel. This is a crushing defeat for proponents of the movement to brand the Jewish state the new apartheid South Africa, as this was the very same organization that kickstarted mainstream acceptance of divestment back in 2004...