I just got off the phone with an IDF Spokesperson who confirmed, via a special briefing for bloggers, that the bus which was hit by an anti-tank missile less than two hours ago in the Sha'ar Hanegev Region was clearly marked as a civilian vehicle (a school bus), and there was no way the Palestinian terrorists who fired the rocket could have mistaken it for a military vehicle.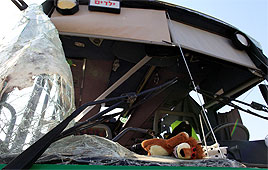 The Spokesperson noted that this represented a severe escalation of terror emanating from the Hamas controlled territory.
We also now know that a teen severely injured in the attack was 13 years old, not 16 as we previously reported.
Ynet reported:
"Hanania Reich, a paramedic who arrived on the scene, recounted the horror. "We were first to arrive together with soldiers. On the road lay a young victim, unconscious and bleeding. We began to resuscitate him and eventually MDA came and evacuated him by helicopter," he said.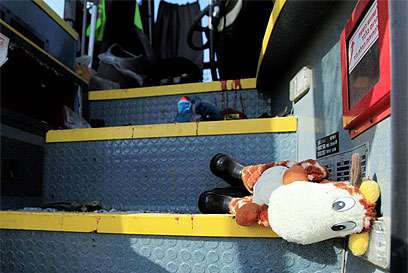 An hour later the fire from Gaza continued, with 15 mortar shells launched at Israel. One of the shells exploded inside a town in Eshkol Regional Council.