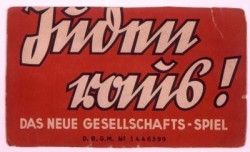 Googling around the other day I happened upon this little slice of history: Juden Raus, a board game. Published in Nazi Germany in 1936, a year after passage of the Nuremberg Laws, the game is a sort of Parcheesi for mental defectives. BoardGameGeek describes it as:
A sort of amalgam of Monopoly and Halma, where the objective was to collect as many Jews as you could, and get them off the board. The pieces were little pawns wearing pointed medieval Jewish hats; the players moved them by rolling dice; the child winning was the one whose Jews scurried out, 'off to Palestine!' through the gates of a walled city.
I'd say that Hamas might be able to make a run at reviving the game, but the whole "shipping Jews off to Palestine" thing would be problematic.
According to a paper by Andrew Morris-Friedman and Ulrich Schädler, who called it "History's most infamous board game", the game was a flop because the Nazis, surprisingly, hated it. They felt it trivialized their great fight against global Jewry. From a review in an SS newspaper:
Jewish problem in the dice cup

In a circular to its customers the company Rudolf Fabricius at Neusalza-Spremberg i. Sa. [i.e. "in Sachsen", the author] states: Juden raus! has been published in impeccable, tasteful form and strong style.

There would be nothing wrong with this statement, if it would be a political insight or a commentary to the measures we have undertaken to fend off the Jewish rabble of murderers. Yet the declarations of the Fabricius company do not regard the impeccable form, with which the German people has reacted against the crimes of the Grünspans and their lot, nor do they regard the strong style of Hermann Göring's answer to those crimes.

It is just quite about the supposedly tasteful form and solid design of a … parlor game, where tiny little figures of Jews are slowly but surely deported to Palestine by the help of the dice cup. The political slogan "Jews Out" is exploited here as a big seller for all toy shops and trivialized to an amusing pastime for little children!

This invention (DRGM. Nr. 1 446 399!) is almost a punishable idea, perfectly suitable as grist to the mills of hate of the international Jewish journaille, who would show around such a piece of mischief as a proof for the childish efforts of the nazistic Jews-haters with a diabolic smirk, if it would appear before her crooked nose.

We do not slave ourselves away with the solution of the Jewish question, to relieve able manufacturers of toys of their worries about a great big seller or to help children with an amusing little game. We don't push out the black Jews, and how often has it to be said, to make room for the not less dubious thirst for action of the white Jews. Let this be told to the Fabricius Company, before it dedicates itself to the realization of its somewhat rash dream to publish its completely unwelcome big seller for Großdeutschland at the forthcoming fairs in spring!

Jews out! yes of course, but also rapidly out of the toy-boxes of our children, before they are led into the dreadful error that political problems are solved with the dice cup."
Morris-Friedman and Schädler conclude their paper:
…"Juden Raus!" is not a "Nazi board game" as it is sometimes called. There is no Nazi symbolism used in the game design and the article published in Das Schwarze Korps shows that the game was disdained – at least officially – in a major publication of the most important Nazi organization. But its true history may never be known for certain and many unsubstantiated rumors about the game exist.

What insights are achieved from "Juden Raus!" about Nazi culture? It is hard to imagine a family sitting at a table playing a game that taught racial hatred. Yet it seems there were people like Rudolf Fabricius who imagined that some families would do just that. Fabricius was one of those mere supporters who thought to make some profit by following in the wake of Nazi anti-Semitic propaganda. Today most people react with disbelief or disgust when informed of the game's existence. "Juden Raus!" shows that after decades of propaganda, anti-Semitism was so deeply rooted in German society in the 1930s, that someone thought it would be a good subject for a children's game. Racism is present in many board games, but "Juden Raus!" is unique in its portrayal of how racism manifests itself in society and is a terrifying example of the banality of evil.