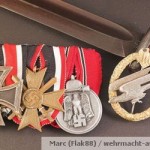 But of course! It's only natural. You remember Marc Garlasco, the oft-criticized Human Rights Watch investigator who, it turned out, had an interest in collecting Nazi-era memorabilia? Just in case, allow me to remind you:
Human Rights Watch's Marc Garlasco a Nazi-Phile
Human Rights Watch Responds to Garlasco Revelations
Human Rights Watch Suspends Garlasco with Pay
Marc Garlasco Resigns from Human Rights Watch
NGO Monitor: Unanswered Questions: Garlasco and HRW's Israel Campaigns
Nazi scandal engulfs Human Rights Watch
The Civil War Within Human Rights Watch
Well, it appears that it's time for Garlasco to pull the rip cord on that golden parachute: Nazi memorabilia collector now a 'Senior Human Rights Officer' at the United Nations
I always knew he'd land on his feet. Of course, even I have to laugh that he actually landed at the UN, not that it should actually be any surprise should it? I mean…seriously.
BTW, you may have heard that Human Rights Watch has actually gotten worse since, what with appointing an actual bona fide terrorist to one of its boards, as opposed to someone with a simply inconvenient hobby.
I should re-state for the record that I don't find an interest in WW2 memorabilia necessarily offensive in itself, though Garlasco seems to have a particular affinity toward one side's cast-offs more than the other, it's just that you can't then go to work for international agencies which already have a bad rep for their dealings with Jews and expect that it should go unremarked upon…or scorned.